Prospect Scrutiny Group report on repairs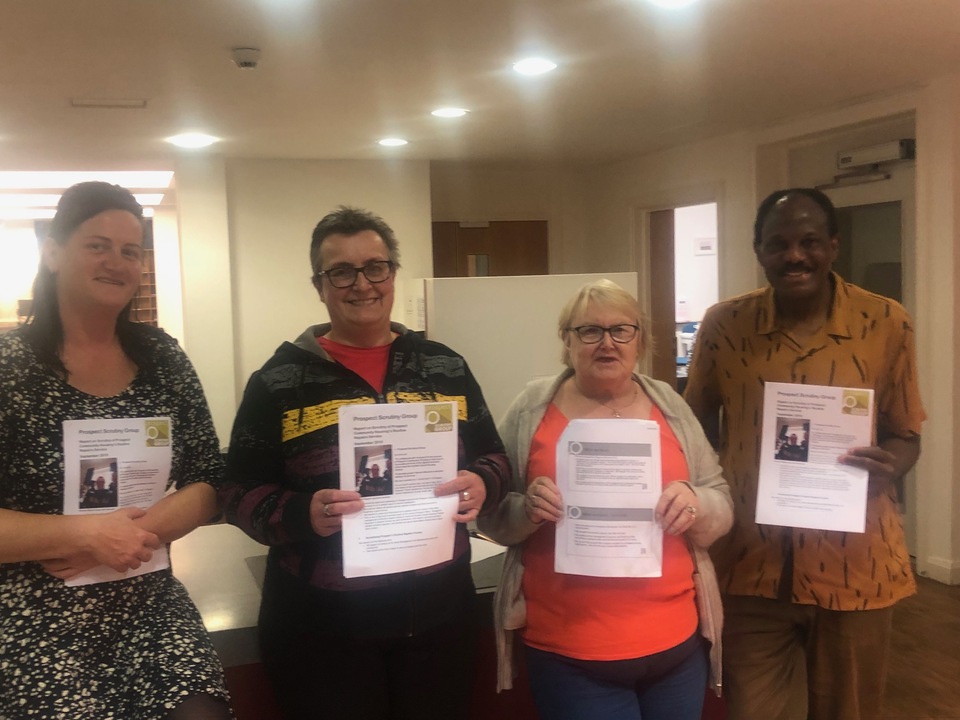 The Prospect Scrutiny Group acts as a "critical friend" to Prospect. It is made up of tenants to take a close look at an area of service delivery, then compile a report with recommendations which are presented to Prospect's Management Committee. Previous topics have included the stair cleaning service, the rent consultation approach and antisocial behaviour.
The repairs service was highlighted as an area for improvement in a tenant satisfaction survey, so this was chosen as the fourth area of focus for the Prospect Scrutiny Group.
As well as spending time with different members of the teams involved in logging, processing and completing repairs and reviewing the associated policies and procedures, the group came together to review the performance data for the service. What the group saw was that Prospect was one of the best performing landlords in terms of timescales to complete repairs. Higher performing landlords for satisfaction and timescales had higher costs, and the group decided that they were happy with the balance and in a positive place as an organisation.
The group have shared their findings with Prospect Committee who accepted their report and recommendations. These included suggestions around updated processes, how tenants can report a repair and moving to a paper-free system but based on the understanding of performance relative to the costs to residents, it was decided that the repairs service is satisfactory. You can read report from the group here - PSG Repairs Report.
Get in touch
Prospect Community Housing
6 Westburn Ave,
Wester Hailes,
Edinburgh,
EH14 2TH
0131 458 5480